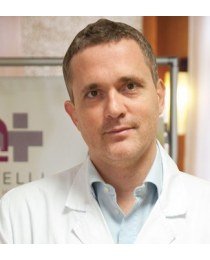 Orthopedic and Traumatologist
Prof. Simone Cerciello graduated in 2000 in Medicine and Surgery at the Catholic University of the Sacred Heart in Rome, and then specialized in Orthopedics and Traumatology in 2005 at the same university.
Since 2000 he has developed numerous basic and clinical research lines (knee pathology, shoulder pathology, neoplastic pathology, traumatology, chondrocyte and articular cartilage pathophysiology, pathology, pathophysiology of the bone-prosthesis interface and septic mobilization) from which resulted in numerous printed works as well as reports and communications at national and international conferences.
He holds a 2nd level University Master in degenerative knee pathology (2009) and 1st level in upper limb biomechanics (2012).

In 2018 he obtained national eligibility as a first level professor in Orthopedics and Traumatology.

He is an orthopedic consultant for the Vatican City State, the General Command of the Carabinieri, the FAO (Food and Drugs Organization), the American Embassy in Rome, Alitalia and CONI.
He is the author of 56 publications on Pubmed and speaker at more than 200 national and international conferences.

He is the first operator in more than 3,500 surgical operations with particular regard to prosthetic surgery (knee, hip and shoulder), sports traumatology and arthroscopy surgery (shoulder and knee).