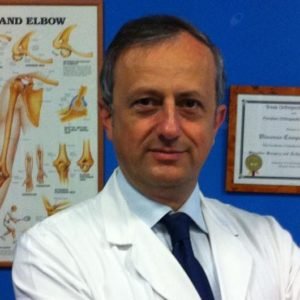 Orthopedic surgeon
Specialization: Shoulder disorders
Graduated in Medicine and Surgery at the "La Sapienza" University of Rome in 1988, Specialized in Orthopedics and Traumatology at the same University in 1993.
Specialized in sports medicine at the University of L'Aquila in 2001.
He attended the Orthopedics department of Texas Orthopedic Hospital in Houston, Texas for 3 months in 1997 to learn all the techniques of arthroscopic treatment of shoulder diseases.
Since then he has developed the arthroscopic treatment of all shoulder diseases (dislocation, rotator cuff, cartilage lesions, etc.), performing them at the highest levels.
At the same time he learned all the Arthroscopic and open surgery techniques for the treatment of Knee Pathologies (cruciate ligament injuries, menisci, cartilage injuries and transplants, knee prosthesis) alongside Prof. PP Mariani.
It carries out continuous prosthetic treatments of Shoulder, Knee, Elbow, Ankle, Hip.
Since 2002 he has been Head of the Orthopedics Department of the Celio Military Policlinic of Rome, since June 2015 Head of the Complex Operative Unit of Orthopedics and Traumatology of the same Polyclinic.
He carries out about 400 interventions per year both in Traumatology and in Orthopedics in election.
He has been and still is the speaker of numerous national and international conferences and courses as well as their organizer.
He had the honor of treating the President of the Republic Carlo Azelio Ciampi, the wife of the President of the Napolitano Republic.