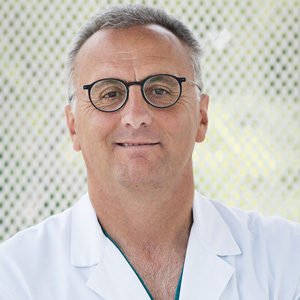 Orthopedic surgeon specialized in knee and shoulder surgery

After graduating in Medicine and Surgery at the University of Rome "La Sapienza" in 1991, he specialized in Orthopedics and Traumatology in 1997 in the same University, perfecting his preparation through a fellowship at the Hospital General Universitario Gregorio Marañón in Madrid.
Over the years he has gained several international experiences both in the USA, at the Sports Medicine Department of the Hospital for Special Surgery in New York and in Europe at the Hospital de Cantoblanco (Madrid), dedicating himself to the deepening of arthroscopic surgery of both the knee and the shoulder .
In the same period he consolidated his knowledge also in prosthetic surgery.
He worked between 1997 and 2001 at the Center for Arthroscopic and Minimally Invasive Surgery of the Pierangeli Nursing Home in Pescara, dedicating himself to clinical activity and scientific research, presenting numerous works at national and international conferences in collaboration with colleagues from the same center.
In 2005 he obtained a Master in Arthroscopic Surgery at the University of L'Aquila.
He is currently an ordinary member of the Italian Society of Arthroscopy and of the Italian Society of Orthopedics and Traumatology and carries out his professional activity in Rome continuing his updating in the surgical techniques he deals with through continuous national and international internships.