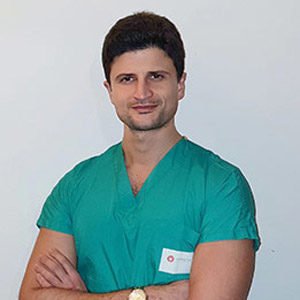 Specialist in Orthopedics and Traumatology
Dr. Passaretti graduated in 2011 in Medicine and Surgery from the University of Rome "La Sapienza" and in 2017 specialized in Orthopedics and Traumatology at the same university.
He carried out his medical training at the Umberto I University Hospital of Rome – La Sapienza University.
He also served at other hospitals and at the Emergency Department of the Policlinico Umberto I.
He is a Social Doctor at the AS ROMA Sports Club (Rome-Italy), assigned to the Youth Sector.
He is a member of SECEC-ESSSE (European Society for Surgery of the Shoulder and the Elbow), SICSeG (Italian Society of Shoulder and Elbow Surgery) and SIOT (Italian Society of Orthopedics and Traumatology).
He has participated in several national and international practical surgical courses and has participated as author / coauthor in the drafting of an international book and in several international scientific articles.
Currently Dr. Passaretti works as an Orthopedic Physician at the MG Vannini General Hospital in Rome and receives by appointment at his studies in Rome and in the province of Caserta.