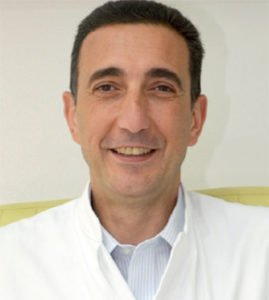 Orthopedic
Dr Angelo Di Giunta was born in Catania on 06/05/1964
In October 1990 he graduated in Medicine and Surgery at the University of Catania
In November 1990 he was qualified as a surgical doctor
In December 1995 he obtained the Specialization in Traumatology Orthopedics of the University of Catania with a thesis on: "Anterior shoulder instability: surgical techniques compared".
July-August 1990; Internship at the Spine Surgery Center directed by Prof. G. LUY.
From March 1991 to today, head of health care of the American Football Sports Association "Catania Elephant A.F.C.".
April 1994; internship at the Musculoskeletan Institute of the University of Pittsburgh, Sports Traumatology Center; directed by Prof. Freddie H. FU.
April 1995; Fellowship at the Shoulder Center of the Columbian Presbyterian University in New York; directed by Dr. L. Bigliani.
June 1995; Fellowship at Hospital for Special Surgery in New York with Dr. D.W. Altchek and Dr. R.F. Warren.
May 1997; Fellowship at the "Balgrist" Hospital in Zurich with the Director of the School of Specialization in Orthopedics and Traumatology in Zurich Professor C. Gerber.
2003 to date Teacher of the SIA Shoulder Faculty Group
2008 Aggregate member of FMSI
2008 International Member of the AANA
2009 to date Appointment of SIA-Sigascot regional delegate for the Region of Sicily
Numerous publications in both national and international magazines and newspapers